YUNWEN ZHU MA–EX '18: EXHIBITION DESIGNER AT THE ROYAL ONTARIO MUSEUM
By: Dimitri Lykoudis '22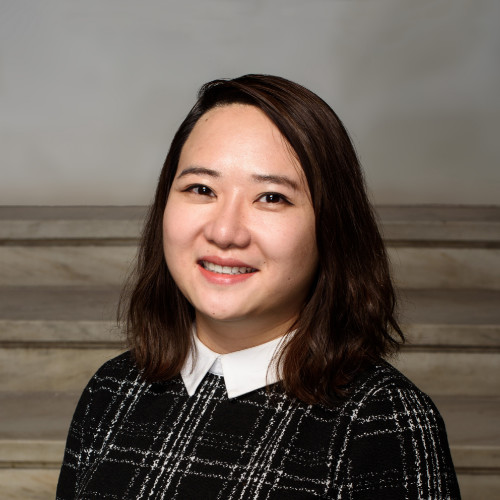 Q: Yunwen, you are a fairly recent graduate of this program (2018). What were the main challenges you faced after graduation, in pursuing the path of exhibition designer?

Well, I was lucky because I started a part-time position in an exhibition firm during the school year and I got an offer from them right after the graduation. The main challenge I had is that as an international student, a work visa is always getting in the way to get an "ideal" job in the field.
Another challenge was that many people/firms are hiring designers from their expertise field, 3D designer from theater design or industrial design field and 2D designer from graphic design agency etc. Unfortunately, sometimes they value their experience more than the training we got for Exhibition Design. I think it is slowly changing as our community, graduates from Exhibition Design programs, is growing and people start to see how we understand this field and have systematic knowledge in most aspects about the industry.
Q: What are the realities you discovered in the field, in relation to what was presented during college? Is the role of the designer what you expected it to be?

A: Budget & Timeframe.

In school, it is always hard to work on projects with budget limitations or working with a production schedule. When you work in real life, you will find there are a lot more practical elements that affect your design decisions, for example, digital interactive maintenance, conservation climate control requirements etc. The show I worked on last year, Egytian Mummies, had over 200 objects. All the cases need security alarmed and most of the artifacts need climate control. I need to design the show with immersive experience and reasonable flow while meeting all technical requirements within a limited timeframe. It is not simply putting cases around the gallery.
Q: What parts of your education and training have you found most relevant so far, to your current work at the Royal Ontario Museum?
A: I think all the training I had from school helped my current job in different aspects. I have done one blockbuster exhibition and currently working on another blockbuster show at ROM as the lead designer. All the shows started with an empty hall, and I will follow through till the full construction finished. The things we practiced repeatedly in different courses, like moodboards, schematic design, prototyping, 3D rendering, visitor testing, materials, construction detailing etc, are all part of the regular process.

Because most of them are really relevant, I would pick the most practical ones, which are the Material and Finish, and Detailing. I constantly go back to the notes from these courses for references.

Q: How has the pandemic changed the nature of the discipline, if at all? Are there new factors and processes stemming from it, that you have to take into consideration in planning future Exhibitions?

A: There are two aspects about the change, visitor experience and internal exhibition development.

Engagement became the biggest challenge from pandemic for visitor experience. It took a long time for museums to become more interactive, experience driven ones. All of sudden, "no touch allowed" brought back the traditional one-way exhibition. It also took away some accessibility solutions, like tactile for low vision/blind people. I think the nature of the exhibition is about experience, how visitors interact within the space. I don't think digitizing it is the solution.

To keep the experience, we just use different methods to achieve the same goal, considering more often about hand sanitizer stations, contactless sensors, QR code for extended content, augmented reality, virtual display etc.

Internally from a working perspective, I think the change also happened in tools instead of the core. More virtual model, virtual white board for communication, but it is still about a group of people looking at how stories could be told within the space.

I am sharing with you this virtual exhibition of ROM's 2017 Blue Whale show, which is what my current project, Great Whales, is based on. I refer back to this model frequently for checking details. It keeps me thinking about how to use an online virtual platform like this one for exhibition experience.

Q: What advice do you have for graduating students?

Enjoy your last mile of the thesis project!

Don't get frustrated when things didn't go as you expected. Just keep working on it. Have a critical eye to your own works and keep polishing them.

Don't be afraid to ask questions!

︎

Yunwen Zhu Bio

Yunwen Zhu is a recent graduate (2018) of the Masters in Exhibition Design program at the Corcoran School, and is currently the Exhibition Designer at the Royal Ontario Museum (ROM) in Toronto, Canada.

Before joining the ROM, she worked at Howard + Revis Design, honing her skills in exhibition concept and design development, detailing, presentations etc. During grad school, she interned at the Smithsonian Institution's National Museum of American History. She earned her Bachelor's Degree in Visual Communication Design from the University of Alberta, and worked as a graphic designer prior to graduate school.