DEVELOPING CONTENT AND DESIGN FOR THESIS
By: Natalie Adam '22
Behind any "finished" design is a stack of unused ideas, google drives full of research and reference material, and countless iterations of concept sketches. Aseeli Coleman, Stefani Oh, and Yueqi Sun, three of this years graduating students, reflect on their own design process and share images of the work that helped them arrive to their final thesis presentations. Their presentations can be found on the GW Corcoran School of Arts and Design
#NEXT2021
page.
Evolution of a Design - Aseeli Coleman
I D E A G E N E R A T I O N
Concept Sketch - Stefani Oh
Where did the work start?
Stefani Oh:
I get most inspiration from traditional architecture and costume from Korea and Japan - I have a lot of interest in those design elements. So, I wanted to incorporate those traditional design aspects in my capstone thesis and I was thinking of designing a traditional costume exhibition at first. However, the Netflix TV show
Kingdom
got my attention during the capstone research phase, and I heard their 'hat' was catching viewers' eyes so I thought I could do their costume exhibition instead of a general costume exhibition. However, a proposal for a costume exhibition got thrown away after several discussions during the planning phase.

Curatorial Research - Aseeli Coleman

How did your original ideas evolve?


Aseeli Coleman
: I had three ideas running (Narrative Exhibition, Translating Dreams into a Spatial Experience, and Recreating a signular environment from the book) from there we kept doing different iterations of them and funneled them through 2 different forms of ideation (a cxcxc matrix and a caTTt chart) which helped flesh out the ideas and get a bit more specific. Through this process we pulled out what was working best from each of those ideas and recombined them. For our second review the idea of using flowers came back (I had ditched it earlier on) and that was really my first foray into Floriography, I had just found out what it was and was still thinking about storytelling (another running idea at this point) so I had the concept: "using flowers as a method of communication and storytelling".
P R E L I M I N A R Y R E S E A R C H
What influence did research have in your design?
Yueqi Sun
has always had a fascination with Alice in Wonderland and knew that she wanted her thesis to be centered on this topic. She began her design process by looking at the multitude of different ways in which Alice in Wonderland has been interpreted andadapted since its original release. Through online searches and prior in- person experiences, she complied research which included: imersive theater, TV shows, an exhibition at the V&A Museum, multiple translated texts of the orignal book and subsequent novels, and various artistic interpreations. These precedents guided her to further consider her persepective how she wanted to execute her ideas.
Concept Sketches - Yueqi Sun
Ambience Concept Renderings - Stefani Oh
Where did you look for visual inspiration?
Stefani Oh
: I search various attraction designs in theme parks such as Universal Studios and Disney, especially a scary one. I want to learn how they design their attractions and what are the main themes to scare people and also when and what people get scared out of it most. Also, I've watched a lot of scary movies not limited to a zombie movie but various scary movies during the semester. However, I just enjoyed watching those movies again and only admired their production techniques while I tried to observe some effects but was not able to fully utilize my exhibition because I was little afraid to be leaning too much like an entertainment event instead of an exhibition
What kind of research goes into a project like this?
Stefani Oh
: The main technique for my capstone exhibition is projection mapping, so I research various projection mapping installations and exhibitions that use projectors. Also, I think I tried to research an exhibition that has horror aspects or has a zombie theme.
C O N C E P T D I A G R A M S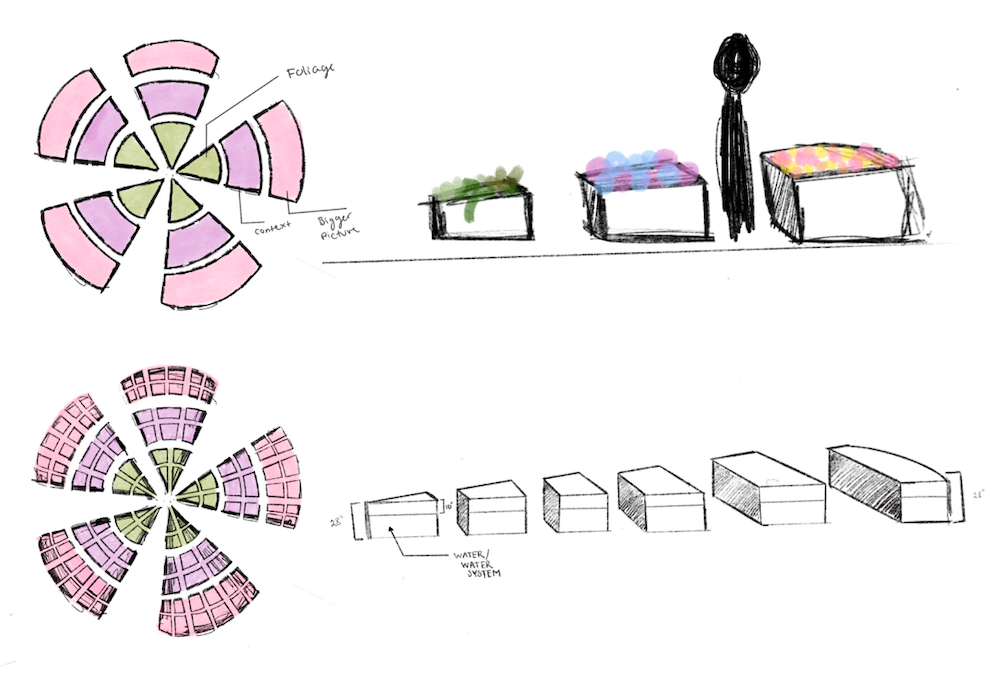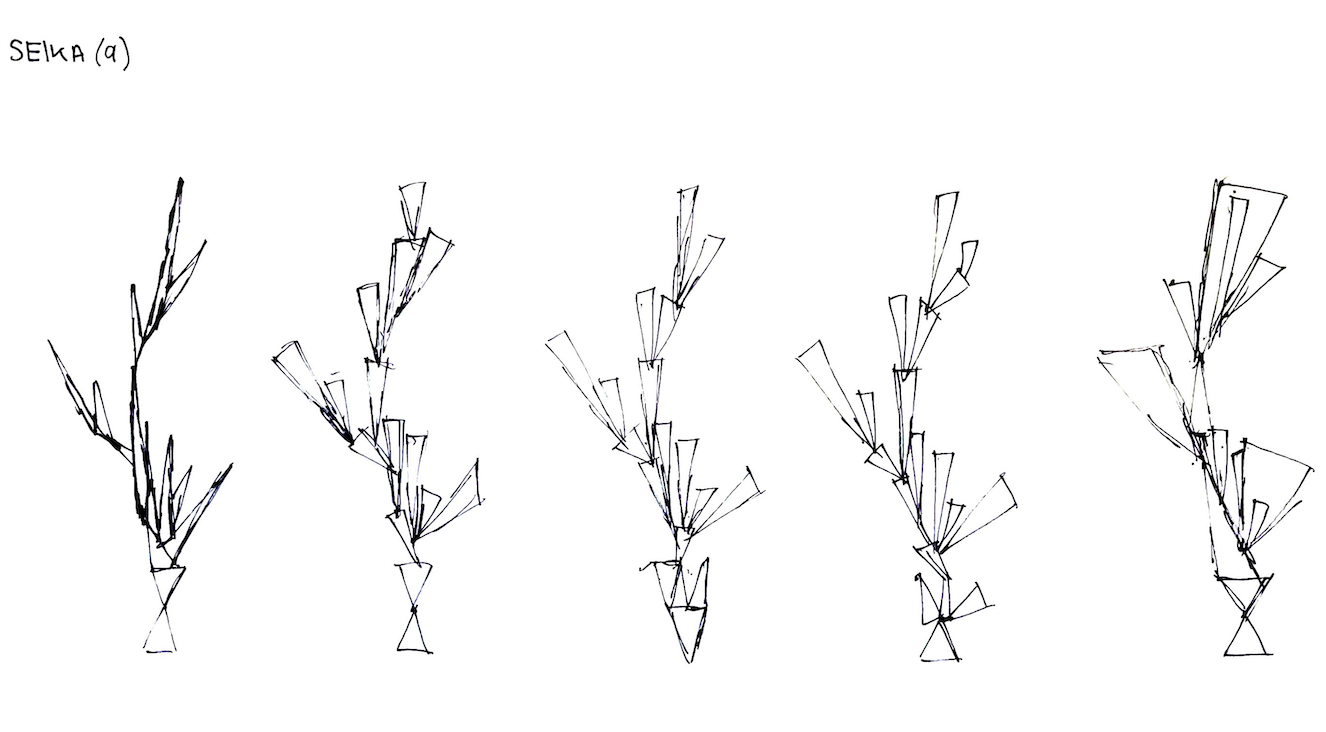 Concept Sketches - Aseeli Coleman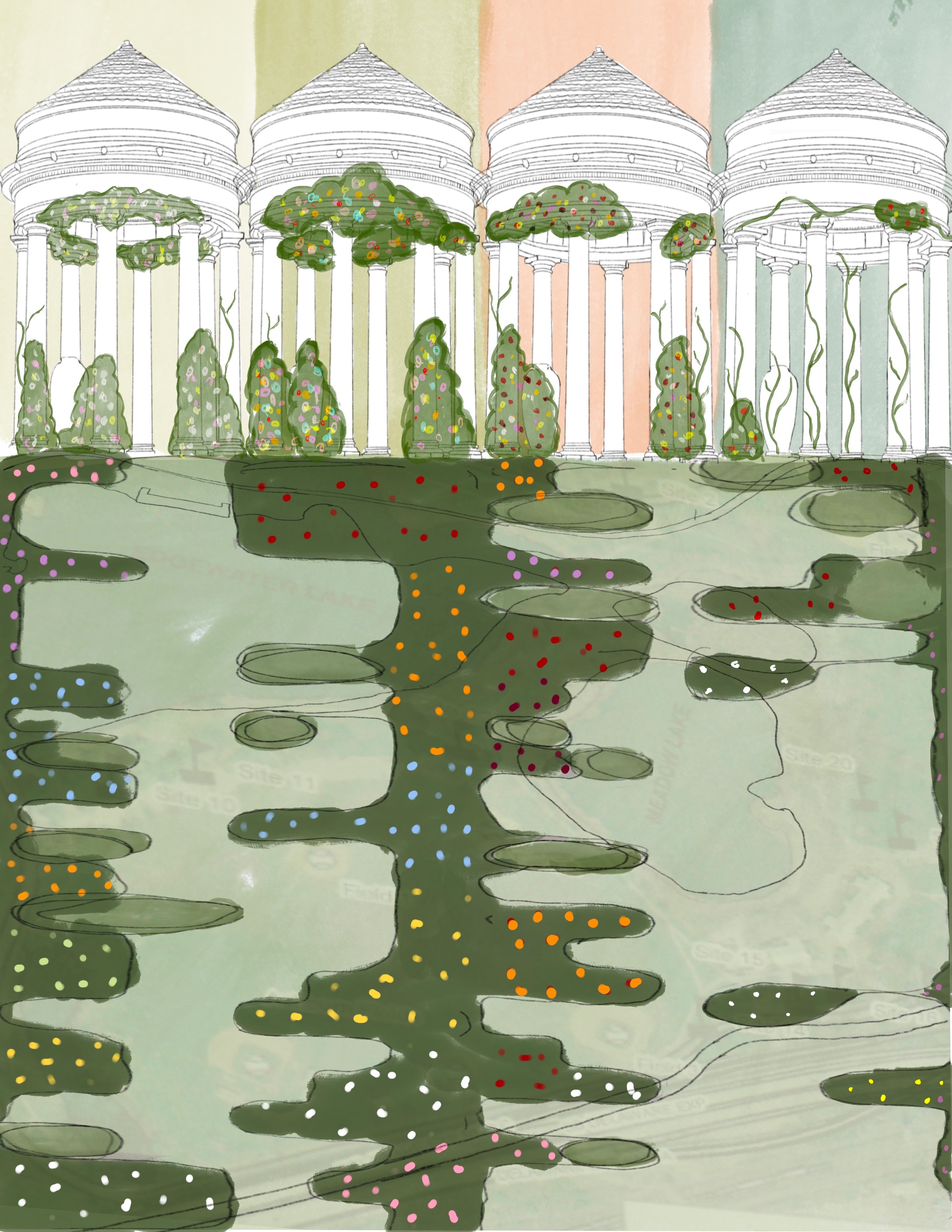 How has your background affected your overall design process?
Aseeli: I realized that I often think through sketching and that comes from my graphic design background. I think I figure things out a lot easier when I just start sketching and I usually recieve really good feed back on my diagrams; I dont think too much about it I just make associations thorugh sketching.



What has been your favorite part to work on?

Stefani Oh: I would say, the research parts. I thought these were the most unpleasant process among the capstone but actually I enjoyed it most when I researched the history of architectures and costume, the sites, and case studies. To be honest, my favorite part was creating abstract visuals such as a concept art collage instead of designing spatial elements for the exhibition.



S I T E A N A L Y S I S A N D W O R K I N G M O D E L S
Progression of Spatial Development - Yueqi Sun

What has been the hardest part of the process?
Yueqi
chose to set her exhibtion at the Westfield Montgomery Mall. As she began to fit her concept into the confines of the built enviornment, she made models which helped her think more deeply about how she wanted visitors to encounter the exhibition. As part of this process, she created visual maps of how to go through the rooms, using graphics as a leading clues on how to navigate the space. One of the challenges she faced was how to build a path from the outside of the mall to the exhibition. In She tackled this probelm by creating a visual map of how to go through the rooms
Concept Sketch - Yueqi Sun
What ideas were left behind?
Aseeli Coleman
: I think a lot of ideas were left behind, and very quickly. I let go of [the idea of hosting the exhibition in] the greenhouse. One thing that came through was that a lot of what I was presenting was very Victorian and talking about the Victorian era. Even though that was the basis for where I got the idea, I didn't want didn't want this to be another exhibition about the western view.
I wanted to break out of that so I started looking at persian gardens and eastern gardens; Persian gardens were known for being an oasis in the center of a city and Eastern gardens were about connecting to and honoring nature. I had to really consider why I was doing this and why did I think doing an exhibition on Floriography was important. In choosing a site I was looking to show how connecting to nature could help revitalize our existance on earth. At that point I was looking at greenhouses, garden centers, and brown sites.
Concept Sketch - Aseeli Coleman
Parti Diagrams - Aseeli Coleman
Spatial Models - Stefani Oh
How does working in a cohort affect your design?

Stefani Oh:
I think working in a cohort definitely has an effect on the design process. I missed socializing and sharing ideas or talking about random stuff with my classmates. I now know that those little things can help me generate various ideas and reach a goal without struggling. Of course, I was able to socialize in Seoul, but friends and family here don't study exhibition design, so the topic of conversation is totally different.